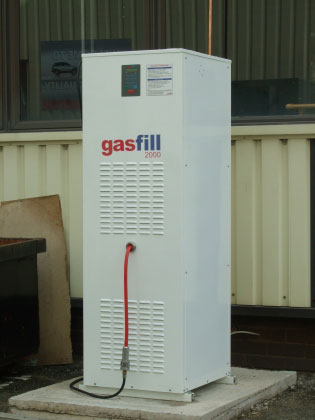 There's nothing new about running your car on other fuels apart from petrol, in fact there are millions of vehicles in the world today that don't use petrol or diesel. Fuelling you vehicle at home or work using the same gas that heats your home, office or factory isn't new either. This type of fuel is called Compressed Natural Gas or CNG for short.
At gasfill we have developed a small slow fill compressor that can operate at any home, office or factory around the world and is ideal for car or light van users. Our products have been tried and tested and are now ready for sale.
What could be easier – convenience of re-fuelling at home or at work plus:
Significantly lower fuel costs (up to 60%)
No need to visit a retail fuel station
Ability to shop around for a fuel supplier
Less volatile fuel price
Credit on fuel supplies
Low emission fuel
CO2 saving technology (20%)
Who is gasfill?
gasfill is based in the UK at Leicester. We have spent our working lives in energy, engineering and vehicle manufacturing. Our products are well designed, easy to use, proven and convenient.
Our business premise is simple: –
FLEXIBILITY – A vehicle that uses petrol or natural gas
CONVENIENCE – I can re-fuel my vehicle(s) with natural gas at home or at work
TIME – I don't need to go to a petrol station as often
SAVE MONEY – Up to 60% reduction in fuel costs
What products we offer
The gasfill 2000 home and work compressor can refuel a car or van in under 10 hours at a rate of 2.0 m3 of compressed natural gas per hour. That's enough to give you a range of over 195 miles on a full fill.
Units are available now so contact us for further details.